28 Nov
I have registered through onlinejobs.ph and inside their site they want to make their members to take a test for IQ, English and Personality tests. Since I'm not that 100% sure of my English capability, I just take the test for IQ and Personality tests.
Here's my personality test ==> http://www.123test.com/disc-personality-test/id=f270edd69788dce028f1
Anyone evaluate my personality based on this results? Is this good or bad?
Here's the result for my IQ test: http://www.intelligencetest.com/test/1.php?ID=23112&Email=rossdalangin@hotmail.com
Here's the grade statistics:
But when I tried http://www.free-iqtest.net/, I got: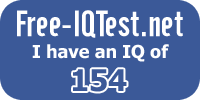 Here's their IQ guide:
So, with intelligencetest.com what I got is 135 and at free-iqtest.net what I got is 154, is this means they are not functioning well? How can these sites really evaluate IQ of a person?  Intelligencetest.com didn't recognize me as a genius and I don't think I am, so, I'm relying on intelligencetest.com now. Maybe that's why onlinejobs.ph use them to evaluate their members. Still, I am grateful with free-iqtest.net for giving me that rank. Thanks!
How about you?
You can try these links:
1. http://www.intelligencetest.com/test/signupuser.php
2. http://www.free-iqtest.net/
3. http://www.123test.com/disc-personality-test/